Where Are Subarus Made?
Blog
Aug 28th, 2023

Where Are Subarus Made? A History of Innovation from Japan To American Soil
Subaru, a name synonymous with rugged dependability and innovative engineering, has come a long way since its inception in 1953 as Fuji Heavy Industries in Japan. Currently, Subarus are made to complete production in two countries, across 3 plants, between Japan and America. Current models in production, by factory, are as follows:
Currently manufactured at SIA (Subaru Of Indiana Automotive)
Subaru Legacy (September 11, 1989 – present)
Subaru Outback (May 17, 1999 – present)
Subaru Ascent/Evoltis (May 7, 2018 – present)
Subaru Crosstrek (May 17, 2023 – present)
Currently manufactured in Gunma, Japan (Subaru-chō location):
The Subaru Forester compact SUV
2024 Crosstrek Base and Premium subcompact SUV trims
2024 Impreza compact hatchback
Subaru WRX performance sports car
Subaru BRZ sports car
Currently manufactured at the Subaru Yajima Plant:
The Subaru Legacy
The Subaru Forester
The Subaru Outback
And More Imprezas and XVs
Subarus Origins in Japan: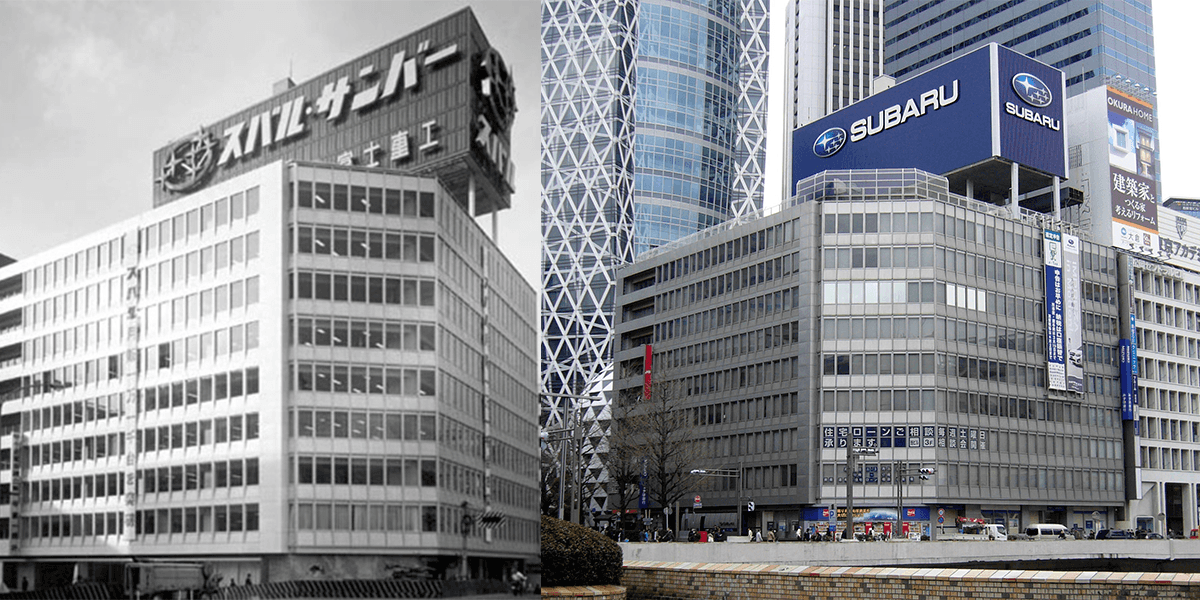 Subaru, a name that resonates with both innovation and reliability, emerged onto the automotive scene as Fuji Heavy Industries in 1953 in Japan. This period marked the inception of a brand that would soon redefine automotive excellence with its distinct blend of technology and craftsmanship. 
Subaru swiftly captured the attention of enthusiasts with its rugged and steadfast vehicles, making an indelible impression on the landscape of the automotive world. Two iconic models, the Subaru 360 and Subaru 1000, played pivotal roles in shaping the brand's identity and solidifying its reputation. The Subaru 360, often fondly referred to as the "ladybug," earned admiration for its compact size and efficient design. Meanwhile, the Subaru 1000 further showcased the brand's commitment to engineering ingenuity, seamlessly melding power and performance. 
Yet, beyond these individual models, Subaru's history in Japan is marked by an unwavering dedication to pushing the boundaries of automotive technology. It was here that Subaru's signature innovations—the all-wheel-drive technology and boxer engine configurations—came to fruition. The introduction of all-wheel-drive technology revolutionized the driving experience, imparting enhanced stability and control to Subaru vehicles, particularly in adverse weather conditions. 
The boxer engine configuration, characterized by horizontally opposed cylinders, became synonymous with Subaru's commitment to optimal performance and efficiency. This unique layout not only contributed to a lower center of gravity but also facilitated smoother engine operation and reduced vibrations. 
Subaru's journey in Japan encapsulates a legacy of groundbreaking achievements. It's a narrative of crafting vehicles that weren't just means of transportation, but expressions of Subaru's passion for driving excellence. As the brand matured, its global reach expanded, and its commitment to pushing the boundaries of automotive innovation resonated far beyond its homeland, shaping the very essence of Subaru's identity in the global automotive landscape. 
Subarus Move to the United States: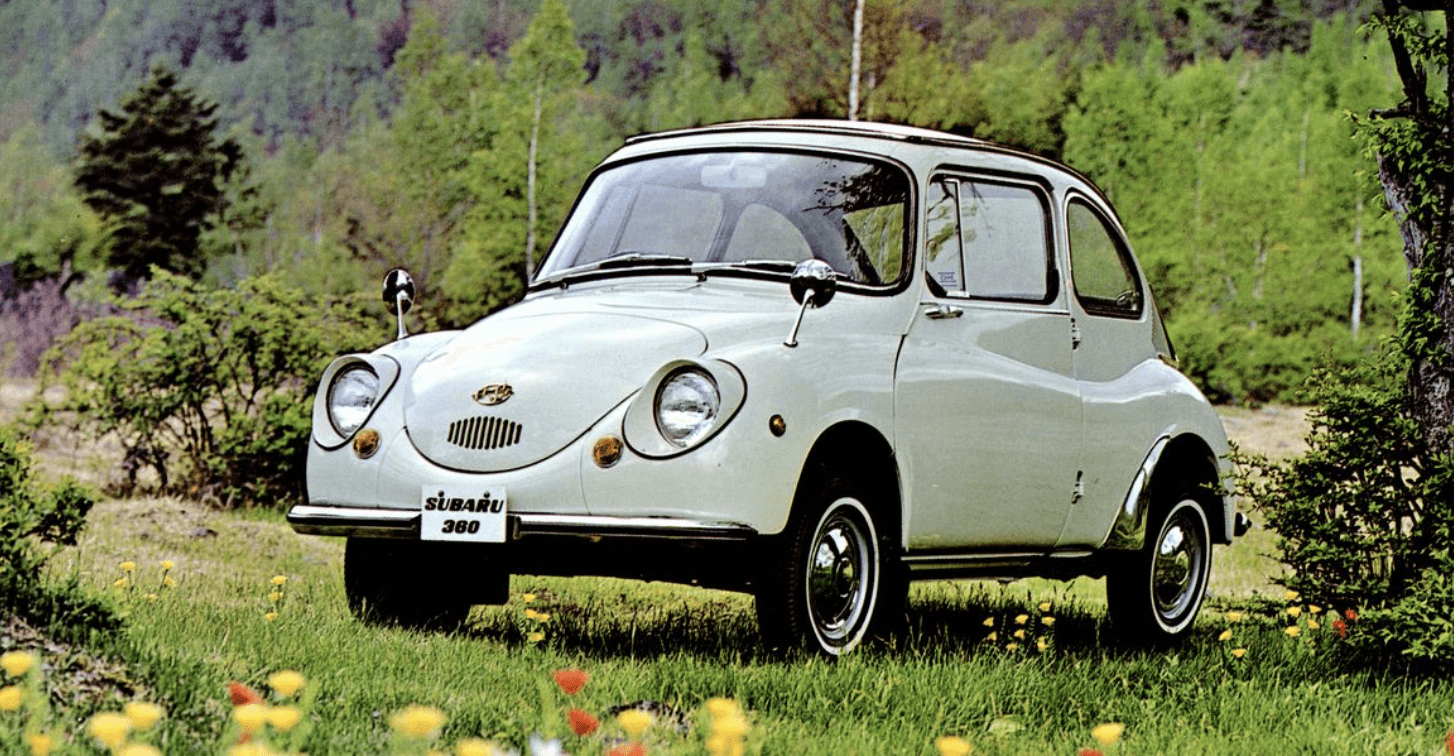 Subaru's journey across the Pacific began in 1968, marking a pivotal moment as the brand set its sights on the American market. With a legacy of engineering excellence and a penchant for innovation, Subaru's entrance into the United States marked the dawn of a new era—one that would witness the brand's enduring presence in the hearts and driveways of American consumers. 
The late 1960s served as the launchpad for Subaru's transcontinental endeavor. It was during this time that the first seeds of Subaru's American dream were sown, as the brand commenced exporting vehicles to the United States. This initial foray into American territory laid the groundwork for what would eventually become an unshakable bond between Subaru and American drivers. 
However, it was in the dynamic landscape of the 1980s and 1990s that Subaru's presence in the United States truly flourished. These decades witnessed a strategic expansion, propelled by Subaru's reputation for producing vehicles that were not only reliable but also incredibly capable, especially in the face of diverse weather conditions. This reputation, combined with Subaru's unique blend of all-wheel-drive technology and boxer engine configurations, resonated deeply with American consumers who sought vehicles that could tackle both everyday commutes and off-the-beaten-path adventures. 
Subaru's resonance with American drivers was not merely a fleeting trend; it was a testament to the brand's ability to anticipate and fulfill the evolving needs of its audience. As the demand for Subaru vehicles surged, the brand recognized a critical need—to establish a local manufacturing presence that would cater to the burgeoning American market. 
This recognition led to the inception of Subaru of Indiana Automotive (SIA) in 1987. The establishment of this manufacturing facility in Lafayette, Indiana, marked a turning point in Subaru's American strategy. SIA, with its state-of-the-art facilities and commitment to quality, allowed Subaru to craft vehicles that resonated even more deeply with American drivers, while also reducing logistical complexities associated with importing. 
Subaru of Indiana Automotive (SIA): A Plant with a Rich Legacy
The Subaru of Indiana Automotive (SIA) plant stands as a testament to Subaru's commitment to American manufacturing, with its story dating back to the late 1980s. The plant's inception is the result of a collaboration between Fuji Heavy Industries Ltd. (now Subaru Corp.) and Isuzu. This alliance, formed in May 1986, aimed to establish a manufacturing stronghold in the United States. After evaluating several potential cities, 13 sites across seven states, including Indiana, were shortlisted. By December 1986, Lafayette emerged as the chosen site, leading to the incorporation of Subaru-Isuzu Automotive (SIA) in Indiana in March 1987. 
In May 1987, the groundbreaking ceremony marked the commencement of construction for the SIA plant. Spanning an impressive 2.3 million square feet, this expansive facility was designed to seamlessly integrate operations from stamping to final assembly. On September 11, 1989, a significant milestone was achieved as production commenced for both the Subaru Legacy and the Isuzu pickup. The official dedication of the plant took place on October 16, 1989, commemorated by an elaborate weeklong grand opening celebration. 
The journey of SIA Associates has been marked by the assembly of an array of vehicles. This diverse portfolio includes the Subaru Legacy, Outback, Impreza, Baja, and Tribeca, as well as the Isuzu Pick-up, Rodeo, Amigo, and Axiom. Notably, SIA's narrative underwent a transition in January 2003 when it became Subaru of Indiana Automotive Inc., solidifying sole ownership by Subaru Corp. (previously Fuji Heavy Industries Ltd.). Subsequent milestones include the cessation of Isuzu vehicle production on July 23, 2004, followed by the initiation of Toyota Camry production on February 28, 2007, through a contract with Toyota. The Camry's production concluded in May 2016 to accommodate expanded Subaru production. 
The later chapters of SIA's history are marked by the emergence of new models. The production line welcomed the Subaru Impreza in late 2016, followed by the Subaru Ascent's inclusion in May 2018. The narrative took another turn in May 2023, when Impreza production at SIA concluded to pave the way for the manufacturing of the Crosstrek 2.5-liter Sport, Limited, and Wilderness Edition. 
SIA's journey mirrors Subaru's trajectory in the United States—a journey of innovation, adaptability, and sustained growth. As a cornerstone of Subaru's American presence, the SIA plant's evolution reflects the brand's unwavering dedication to meeting the dynamic demands of the American market while fostering a legacy of craftsmanship and excellence. 
What Subaru Vehicles Are Made in the USA?
Over the years, Subaru has expanded its production capabilities in the U.S., with the following models currently being made at the SIA plant: 
Current manufacture at SIA
Subaru Legacy (September 11, 1989 – present)

 

Subaru Outback (May 17, 1999 – present)

 

Subaru Ascent/Evoltis (May 7, 2018 – present)

 

Subaru Crosstrek (May 17, 2023 – present)

 
Past manufacture at SIA
Isuzu Pickup (September 11, 1989 – 1995)

 

Isuzu Rodeo (May 15, 1990; July 21, 1997 – July 23, 2004)

 

Honda Passport (November 16, 1993; July 21, 1997 – 2002)

 

Isuzu Amigo (January 8, 1998 – July 23, 2004)

 

Isuzu Axiom (January 15, 2001 – July 23, 2004)

 

Subaru Baja (July 18, 2002 – 2006)

 

Subaru Tribeca (April 4, 2005 – January 2014)

 

Toyota Camry (February 28, 2007 – May 27, 2016)

 

Subaru Impreza (November 1, 2016 – May 2023)

 
Degree of American-Made: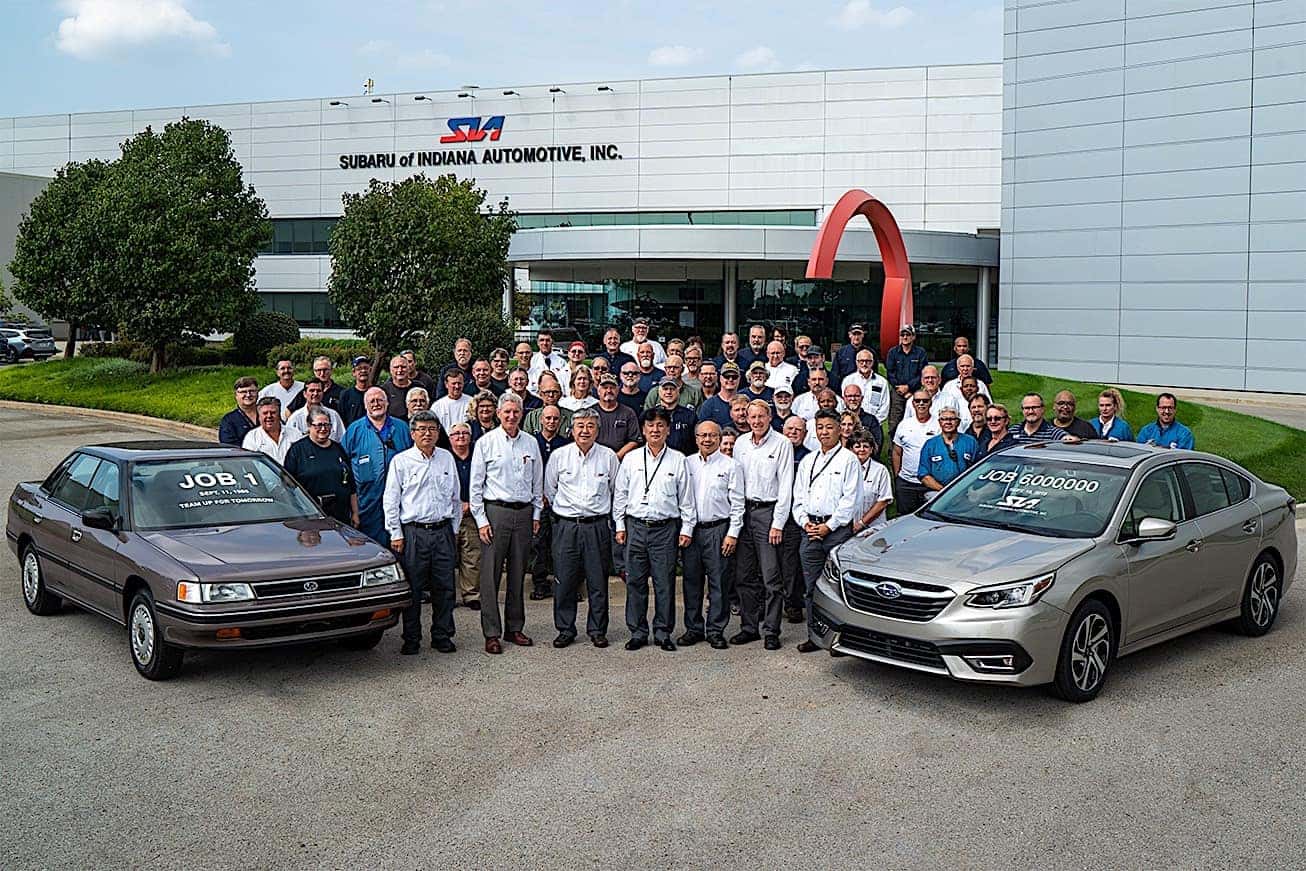 While these Subaru models are assembled in the U.S. at the SIA plant, they don't have an extremely high percentage of U.S. content. The U.S.-made Subaru models still incorporate a substantial number of imported parts, including major drivetrain components, engines, and transmissions from Japan. For example, the 2023 Subaru Outback, Impreza, and Legacy each have about 40% of their parts shipped from Japan. The Subaru Ascent 3-Row family hauler has 30% of its parts coming from Japan. 
Subaru's Manufacturing Shift:
Subaru's manufacturing strategy has evolved in recent years, leading to changes in where specific models are produced: 
Subaru announced that the 2024 Crosstrek subcompact SUV will be made in the Subaru of Indiana Automotive (SIA) factory in Lafayette, Indiana. This move was motivated by Subaru's desire to get its popular Crosstrek model to U.S. customers more quickly. 
The Impreza hatchback, which was previously produced at SIA, will now be manufactured in the Gunma, Japan factory and shipped to the U.S. from Japan. This change was due in part to the high popularity of the Impreza hatchback body style in the U.S. 
Subaru's Strategy and Influence on the Market:
Subaru's decision to establish manufacturing in the United States was driven by the brand's growing popularity and the need to cater to the American market's demand for reliable, versatile vehicles. While Subaru vehicles produced at SIA still incorporate a significant proportion of imported components, the move to American manufacturing has allowed the company to be more responsive to market trends and customer preferences. The introduction of more models made in the U.S., like the 2024 Crosstrek, reflects Subaru's commitment to delivering its products more quickly to American consumers and leveraging its strong market position in the country. 
Subaru's Market Shift and Manufacturing Locations:
 Subaru has undergone a significant transformation in recent years, evolving from its origins as a legendary brand in the rally world to becoming a mainstream automaker with a strong focus on adventurous families and individuals. This shift in popularity has prompted many to inquire about Subaru's origins and manufacturing locations. 
Subarus Manufactured in Japan: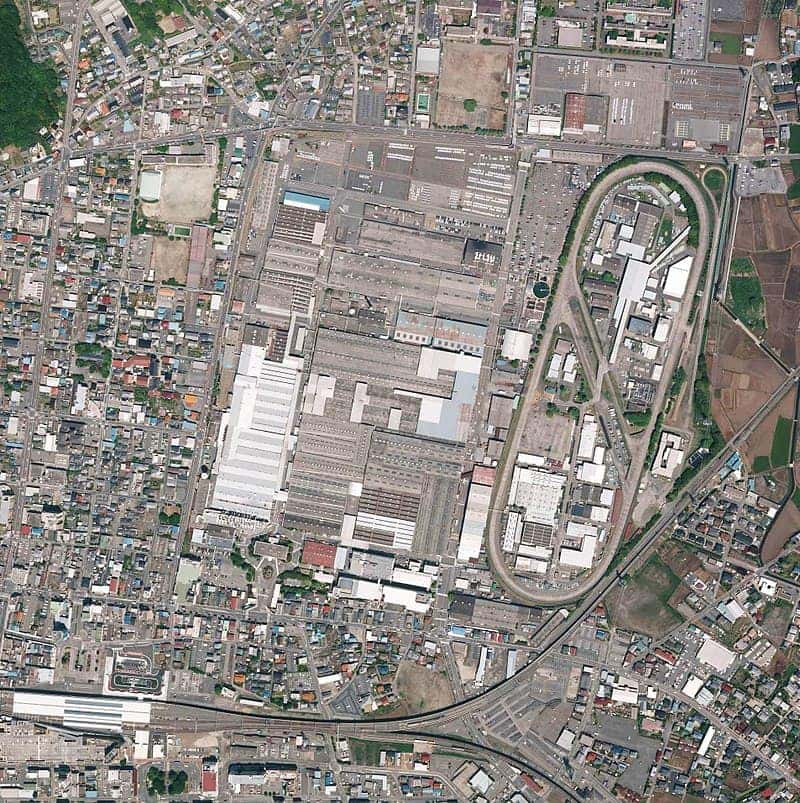 Despite its relatively small size as an automaker, Subaru operates five factories globally, with four of them situated in its home country, Japan. Among these factories: 
This sprawling facility spans 82 acres and serves as a cornerstone of Subaru's production. It produces models such as the WRX, Impreza, Crosstrek (known as XV in Japan), BRZ, and the Toyota GR86. The workforce at this plant comprises around 4,500 employees. 
Responsible for manufacturing Subaru's larger vehicles, the Yajima Plant is where models like the Forester, Outback, and Legacy are produced. Despite being somewhat smaller in size compared to other plants, it employs around 3,000 workers. 
The Ota North Plant holds historical significance for Subaru as it's where the brand has been building cars for an extended period. While it used to manufacture the Sambar kei utility vehicle family, Subaru now focuses on producing aircraft components at this plant. 
This facility is dedicated to engine and transmission production for all Subaru vehicles. This separation of production functions streamlines the manufacturing process. 
Subarus Manufacturing in the United States: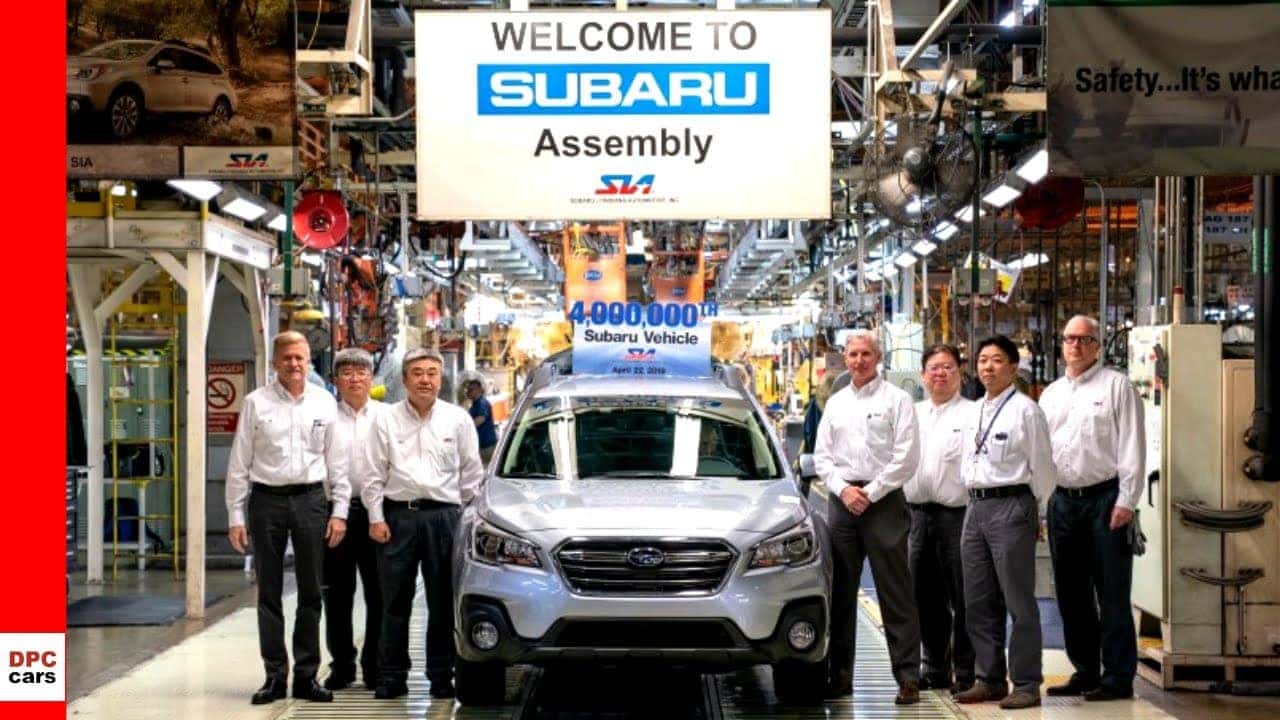 Subaru's expansion into the American market is reflected in its manufacturing presence. The Lafayette, Indiana plant is the center of Subaru's manufacturing activities in the United States. This facility plays a crucial role in Subaru's production capacity, building over 300,000 vehicles annually in normal years. The models produced at this plant include the Subaru Outback, Legacy, Ascent, and Impreza. 
It's worth noting that other major Japanese automakers, such as Honda and Toyota, have also utilized the sprawling 820-acre Lafayette site for their own car manufacturing. 
From Japan To America, Subaru Moves Forward
Subaru's journey across the Pacific to the United States marked a pivotal juncture in its history. The late 1960s saw the brand's tentative steps into the American market, which eventually solidified into an unbreakable bond between Subaru and American drivers. The following  decades witnessed strategic expansion, as Subaru's reputation for reliability and adaptability resonated profoundly with a diverse range of American consumers. The establishment of Subaru of Indiana Automotive (SIA) in 1987 marked a turning point, allowing Subaru to craft vehicles that met the unique demands of the American market while reducing the complexity of international manufacturing logistics. This year alone Subaru was named Consumer Reports Best Mainstream Automotive Brand.  
Looking ahead, Subaru's trajectory is filled with hope and promise. The recent inclusion of models like the 2024 Crosstrek and Impreza, along with the strategic shift in manufacturing locations, demonstrates Subaru's commitment to continuous evolution. As Subaru enthusiasts and consumers, we can be optimistic about the brand's future, confident that Subaru's innovative spirit and dedication to American manufacturing will continue to thrive. Just as Subaru has weathered challenges and embraced change throughout its journey, we can expect the brand to navigate the road ahead with the same resilience and passion that has defined its legacy so far.